The Waterpik Water Flosser for Kids is another device brought to you by the creators of the water flosser. It is specially designed with kids in mind, from its compact size, to simple-to-use features to extra, fun elements that appeal to kids, and the kid in all of us.
The Water Flosser for Kids is a great way to get your child started at an early age on the path to a healthy oral hygiene journey. It is clinically proven that water flossing is more effective than traditional flossing in reducing signs of plaque, gingivitis, and gum disease, since it removes debris from deep between teeth and below the gum line; something that brushing alone cannot accomplish.
It is important to encourage your kids to floss daily because if they learn to care for their teeth from an early age, it will help them keep a bright, clean smile into adulthood!
Additionally, this is a must have flossing product if you have kids with braces. It's so much easier to clean in between the wires and brackets with a water flosser than with traditional flossing.
Plus, many dentists recommend water flossing for kids with braces, to remove food particles and promote a clean, healthy mouth.
So why this Waterpik model?
The Flosser for Kids is easy, effective and fun for kids to use, is recommended for children ages 6 and up, has a compact, simple design and a vibrant, lime green color. It's form, function and fun all in one!
The Waterpik Water Flosser for Kids was created with kids in mind. By the makers of many other popular water flossing devices, Waterpik again scores high customer review ratings of 4 out of 5 stars with the Water Flosser for Kids; you can find over 1,000 reviews for this product on Amazon.com.
Let's dive in and examine the features and functionality of the device, specially designed for kiddos:
---
Notable Features
---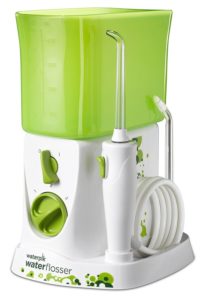 Safety – Featuring kid-proof electrical connects, parents don't have to worry about kids getting electrocuted while using a flosser that simultaneously requires both electricity and water to operate. The safety features of this device eliminates parental worry and enables kids to be completely independent when using this water flosser.
Size – Since this model is specifically manufactured for kids, it is on the smaller side. This is a positive feature because it is not too large for kids to handle on their own, it takes up less counter space than larger Waterpik devices and it is much quieter when in use!
Controls – With the turn of a knob on the front of the device, kids can easily control this water flosser, putting it in either the on or off position. Also, they'll be able to effortlessly manage the water pressure of the device, which has 3 settings, with an easy-to-use knob. The actual water pressure is also kid-friendly; water is emitted from the flosser tip with just enough pressure to promote healthy water flossing and remove food particles from in-between braces, but gentle enough to avoid harming developing mouths.
60 Second Water Reservoir – The smaller, easy-to-fill, reservoir lets kids use the water flosser from start to finish, all by themselves. Simply fill the reservoir with lukewarm water and you're ready to get started. What's also great is that the reservoir holds enough water for a full 60 seconds of use, the recommended duration for water flossing. Once flossing is complete, empty any remaining water from the reservoir and turn upside-down for hygienic storage. Pretty cool, right?
Bonus: Don't forget to add your own flair to your Waterpik! The Water Flosser for Kids comes with 20 vibrant, removable cling labels, including baseballs, footballs, flowers and snowboarders, so kids can decorate the lime green reservoir again and again!
Flosser Tips

– The flosser tips included with the Water Flosser for Kids model can be easily inserted into the holder to get started flossing right away. The flosser tips are interchangeable and the following 2 tips come standard out-of-the-box:
Classic Jet Tip (1x) – This is the standard water flossing tip with the hard-plastic end that comes with every Waterpik device. This is the perfect tip for everyday use.
Orthodontic Tip (1x) – This tip is composed of a tapered brush and helps to remove hard-to-reach plaque around braces, including food particles caught between the wires and brackets.
Travel-Friendly – This device is ready to go almost anywhere – from grandma's house to summer camp to a 10-day, European vacation! The Water Flosser for Kids comes equipped with global voltage compatibility and can be used in any country around the world. You don't have to let a vacation stall a good, daily flossing habit.
Cost & Warranty

–

 The Water Flosser for Kids, manufactured by Waterpik, has an MSRP of $49.99 and is also available on Amazon.com for slightly cheaper. The Water Flosser for Kids also comes with a two-year warranty.
---
Fun Facts
---
The first time using the Water Flosser for Kids, be sure to set the pressure control setting to "1" to get a feel for the water pressure. You can always increase the pressure after a few uses.
It is suggested to brush your teeth and use mouthwash to rinse after using the Water Flosser for Kids for 60-seconds.
Expect some water splatter the first time the Water Flosser for Kids is used! Once the user gets the hang of it, the residual splashes should subside.
Water flossing has been clinically proven to be 5x more effective than brushing alone for kids with braces.
With regular, continued use, water flossing has been clinically proven to improve gum health.
Here's a fun and quick, 60-second video on how to use the Water Flosser for Kids:
---
Final Thoughts
---
The Water Flosser for Kids is a great choice for getting kiddos started with good oral hygiene practices as early as 6 years of age. Since the American Dental Association (ADA) recommends flossing at least one time per day, your kids can easily spend 60-seconds daily to develop good oral hygiene habits, resulting in a clean mouth. With its kid-proof and kid-friendly design, this device is ready to use out-of-the-box and makes flossing fun! As an added bonus, using the Water Flosser for Kids on a consistent basis, 60-seconds per day, will improve gum health, prevent plaque and gingivitis and keep teeth clean, especially for kids with braces.
With over 1,000 reviews on Amazon.com, the Waterpik Water Flosser for Kids scored 4 out of 5 stars, and is a great investment for the future of your kids' oral health.