Water flossers are an effective alternative to regular string floss.
They get deeper into the pockets in between the teeth, they're also gentler on one's gums when compared to toothbrushes.
In addition to dislodging food debris and plaque, water flossing also helps prevent periodontal inflammation and infection by flushing out bacteria which is responsible for gingivitis, along other oral diseases. Water flossers can also clean implants, crowns, and orthodontic appliances without wearing them down.
Some people prefer to use corded water flossers due to the convenience of storing them at home, and the increased water supply that allows them to use the water flosser for longer without refilling.
Alternatively, some people like to have a cordless water flosser so that you can use it wherever you like. This is especially handy when travelling.
So which are the best cordless water flossers?
For superior results, it's crucial that you pick the best cordless water flosser. The right model for you is dependent on how much you intend to spend and how you'll be using it. Below, we review the five best cordless flossers. This guide is a result of intensive research. It's entirely factual, accurate, and non-biased.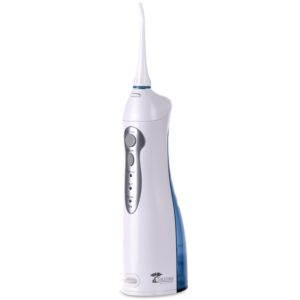 This model is a much-improved version of the 1st Gen Oral Irrigator by ToiletTree Products. It boasts a larger 6-ounce water tank, two interchangeable nozzles, and a 360-degree rotating nozzle. It doesn't have a battery. You simply need to plug in the adapter and make use of it wire-free once it's charged.
On a full charge, it'll last an entire week if using it twice a day.
It's a perfect option for frequent travellers as it takes up a little amount of space.
This waterproof flosser won't get damaged even if you accidentally pour water on it.
It's an incredibly portable model that's powered by two AA batteries. It's only suitable for individual use as it comes with a single head.
Space and storage won't be an issue with the Panasonic EWJ-DJ10.
It stands out with its noiseless operation, with the only noise being the natural sound of water shooting from the tips.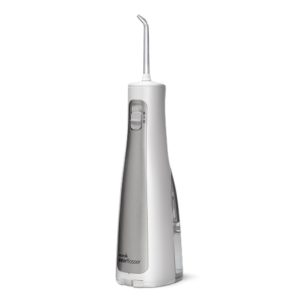 This battery-operated water flosser is a perfect choice for small bathrooms and travel. It has a portable, waterproof design, offering two different pressure modes and three water flossing tips. That allows you to personalize the water pressure intensity.
It comes included with an easy-to-fill reservoir, three AA batteries, and a travel bag. A travel plug will prove quite handy to prevent leakage when traveling. You can use it in the shower as it is waterproof.
The Waterpik WF-03 is worth considering if you're seeking an easier, more efficient and affordable way to floss.
The Waterpik FLA-220 has been clinically proven to be more efficient than manual floss. It's an easy-to-use irrigator that features flexible nylon tips that will slip easily between the teeth.
It's also much gentler on gums when compared to many other flossers. This model features 15 easy-to-replace tips. It's a gadget that will grant you more incentive to floss daily.
For a portable option, the Waterpik FLA-220 is a God-send to persons with braces or any other dental work. It's able to reach many plague-prone areas in between the teeth where ordinary floss doesn't reach. Save your smiley mouth with this affordable, yet effective water flosser.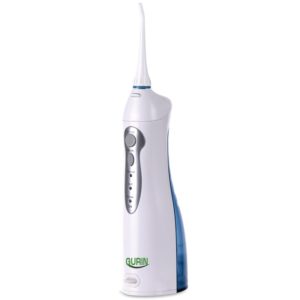 This Oral Irrigator by Gurin Professionals is an intuitive, easy-to-fill, and simple to use water flosser. This model, having two tips, can be used by two individuals.
The battery lasts long on a single charge. This irrigator offers three different settings: SOFT for sensitive gums, PULSE for gum massage, and NORMAL.
It'd be a fantastic bargain, especially on considering how durable it is, thanks to the quality build. It's a model that will feel remarkably beautiful on your teeth and gums.
Conclusion
Cordless flossers come in varying sizes, and with different features. Their obvious benefit is extreme portability. You can carry them with you when traveling without having to deal with any space issues since they're relatively small.
You won't worry about wires or cables as you'd with their countertop counterparts. They tend to have smaller water tanks than those present in countertop flossers. They're ideal for children as there's no risk of electrocution. The products featured above will contribute substantially to transforming your oral state.