The Waterpik Aquarius is the flagship device from the creators of the water flosser.
It is arguably the most sophisticated and highest quality water flosser available on the market today, and garners a great reputation from professionals and users all over the world.
Before we dive into the details, lets have a quick look at some pros and cons:
The Good
+ Easy to use
+ 10 different pressure settings
+ 7 water flossing tips
+ 90 seconds of water capacity
+ Extremely popular
+ Different modes for different purposes
+ LED mode display
+ 1 min timer for convenience
+ Clinically proven results
+ 3 year warranty
The Bad
– For use in NA only (compatible with 120VAC/60hz outlets)
– Quite loud
–
Expensive compared to floss
– Not very portable
– On/Off switch can be difficult to use
---
Design & Accessories
---
The Waterpik Aquarius is stylish. There's no doubt about it.
If someone hasn't seen a water flosser before and encounters this in your bathroom, they'll likely be both intrigued and impressed. Or at least they might have a clue as to how your teeth are so well taken care of!
The water flosser comes in two colors: black and white (unless of course you want to opt for the designer version which also includes 'vibrant teal' and 'radiant pink'). Both are very good looking devices but of course the color doesn't change how it works or what kind of features you'll be getting.

Notable Features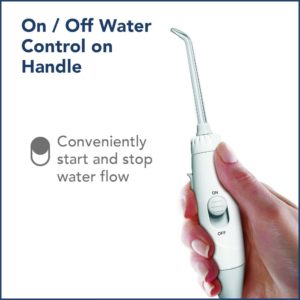 Easy On/Off Button – on the handle of the device is an easy to use on/off button. Water flossers can be quite messy sometimes so its helpful to have a switch to stop the water flow within reach. It should be noted that this button doesn't actually turn the device off and just stops the water pumping, so you'll still have to turn the base part off when you're done.
Pressure Control – on the base of the device is a dial that is used to control water pressure. You'll find this useful when you need a bit of extra force to clean in between teeth and gums. We found that the dial was both easy to turn and having the large amount of options available added to the experience.
The lowest setting is 10 PSI and each increment increases by 10 PSI with a maximum of 100.
LED display – Above the pressure control is a LED display that lets you know which mode you are currently using.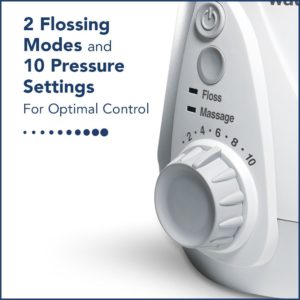 Two Modes – Floss or Massage?
Floss mode is the standard, and simply provides a current jet of water that is uninterrupted.
Massage mode is unique to the Waterpik (also called "Hydro Pulse Cleaning Mode") and shoots pulses of water instead. The water stream stops and starts rhythmically and is designed to massage your gums.
Massaging the gums helps to promote blood flow and in turn makes the gums healthier, so this is a nice option to have but we're not sure how often we'd use it.
1 Minute Timer – Waterpik recommends that you floss for around 1 minute, and have included a timer with a 30 second pacer to help you ensure you're flossing the correct amount. This means that after 30 seconds the water will stop very briefly to let you know that you're at the halfway mark.
Covered Tip Storage – At the back of the reservoir there is a small storage area for 2 of your favourite tips. We found that most of them fit quite well except for the brush tips, which tended to press against the inside of the reservoir and in extreme cases also were permanently bent. If using this we'd recommend keeping only the standard tips in here.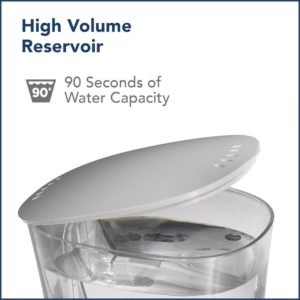 Reservoir – The reservoir on the Waterpik is decently sized. It stores 22 ounces of water which amounts to about 90 seconds of water supply. This should easily cover one water flossing session.
You might think that its a little small for such a professional device, but actually it encourages you to both wash out the reservoir often and use new water every time (remember all this water is going straight into your mouth).
The reservoir is easily detachable which means it can be filled up at the tap without problem and is even dishwasher safe.
Rubber Feet – As this is a home device it will likely be kept on your bathroom counter top. Thankfully it is equipped with some rubber feet under the device so as to stop it from slipping if the surface is wet.
Accessories – it's all in the tip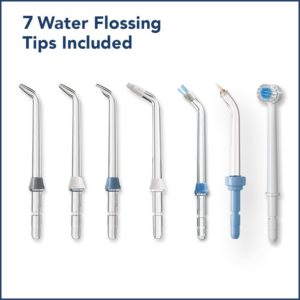 The Aquarius comes with 7 tips that can easily be swapped out depending in your goal.
Classic Jet Tip – 3 included
These are the standard water flossing tips. They are recommended for general use and there are 3 included for multiple users.
Toothbrush Tip – 1 included
A handy tip if you wanted to brush your teeth and water floss at the same time. This is a weird one honestly as water shoots out from between the bristles. You are pretty much just brushing your teeth with water flowing out of your toothbrush.
Plaque Seeker Tip – 1 included
This will be a much appreciated tip for those with dental fixtures such as implants or crowns. It is designed in such a way that it can get into hard to reach areas.
Orthodontic Tip – 1 included
Again a very useful tip, this time for those with braces. This one is designed to be able to get underneath and around braces and brackets to remove plaque.
Pik Pocket Tip – 1 included
This one is best for periodontal pockets. It is a specialist tip for delivering rinses and medicaments deep below the gum line.
---
Usage & Impressions
---
The Waterpik Aquarius was a pleasure to use.
One of the main upsides to this device was the amount of control we felt we had. A water flosser can be a hugely messy endeavour if this isn't the case. Water can go _everywhere_.
With the Aquarius we had the ability to stop and start the flow of water with ease, which made a huge difference to the overall experience.
Portability
One thing that some people don't like is the lack of portability. Some, on the other hand, much prefer a device that is a mainstay in the bathroom and doesn't have to be moved around. There are a huge variety of corded and cordless water flossers for each type of person.
Different Modes
As we mentioned above: the massaging mode didn't seem too enticing to us as the concept is really something we haven't given much thought to. Having said that if gum massage is something you need or are interested in then actually I don't think there are many other products on the market that offer this functionality so its definitely a nice addition to have.
Noise!
The Waterpik is not a quiet device. once you turn it on and the water starts being pumped you'll be able to hear it throughout the whole house.
Overall Usage
Filling up the reservoir and keeping it clean is easy, and using the actual device is easy.
In terms of overall usage its hard to find any faults except for maybe the fact that the on/off button was sometimes hard to reach and it gives a lawnmower a run for its money in terms of volume.
---
Final Thoughts
---
If you're looking for a water flosser, definitely consider the Waterpik Aquarius.
Its well designed, comes with a bunch of accessories, and its hard not to crown this as the best water flosser on the market.
Extra: Official Instructions