The Waterpik Aquarius is the flagship device from the creators of the water flosser. We marked it as our top choice in our round up of the best water flossers available. Widely considered to be the best water flosser on the market, its range of features makes it the perfect device for pretty much everyone. 11000 Amazon reviewers seem to agree!
All of Waterpik's products are clinically proven to be 50% more effective at improving gum health than string floss. They also remove 99.9% of plaque from treated areas. And with over 500 patents and award-winning technology, Waterpik is held in high regard by professionals and users all over the world.
Before we dive into the details, lets have a quick look at some pros and cons:
The Good
+ Easy to use
+ 10 different pressure settings
+ 7 water flossing tips
+ 90 seconds of water capacity
+ Extremely popular
+ Different modes for different purposes
+ LED mode display
+ 1 min timer for convenience
+ Clinically proven results
+ 3 year warranty
The Bad
– For use in NA only (compatible with 120VAC/60hz outlets)
– Quite loud
–
Expensive compared to floss
– Not very portable
– On/Off switch can be difficult to use
---
Design & Accessories
---
The Waterpik Aquarius is stylish – there's no doubt about it.
If you saw this in a friend's bathroom, and had never seen a water flosser before, you'd be intrigued and impressed. You would also figure out why your friend has such a gorgeous smile!
The Aquarius comes in two colors: black and white (unless of course you want to opt for the designer version which also includes 'vibrant teal' and 'radiant pink'). Both are great looking devices but of course the color doesn't change how it works or what kind of features you'll be getting.

It can be a little confusing to identify a product with so many different product codes flying around. Anything starting with a WP-6XX is an Aquarius. Here is a breakdown of what they mean:
WP-660 Aquarius White
WP-662 Aquarius Black
WP-663 Aquarius Blue
WP-670 Aquarius Designer White (Chrome Accents)
WP-672 Aquarius Designer Black (Chrome Accents)
WP-673 Aquarius Designer Blue (Chrome Accents)
WP-674 Aquarius Designer Pink
WP-675 Aquarius Designer Orchid
WP-676 Aquarius Designer Teal
Notable Features
Pressure Control
The range of pressure settings available with the Waterpik Aquarius allows for optimum water flossing. Ranging from 10-100psi, the 10 different settings allow you to tailor your flossing experience to your individual needs. You can select your desired pressure setting before you start the water flow, by turning the easy-to-use dial.
Easy On/Off Button
It's helpful to have a handy switch to stop water flow as water flossers can be messy. Recommended flossing position is with your head down, looking at the plug hole, so having a pause button at your fingertips really helps. It doesn't turn the device off but temporarily halts the water flow.  Don't forget to power off the unit when you are done!
LED display
The LED display allows you to easily identify which mode you are using.
Two Modes

– Floss or Massage?
Floss mode is the standard water flossing mode, providing an uninterrupted jet of water. Whilst it appears to be continuous, it actually pulsates at an incredible 1400 pulses per minute. This patented technology is more effective at cleaning than just a continuous stream of water. It is also clinically proven to remove 99.9% of plaque from treated areas, as well as being 50% better for gum health than string floss.
Massage mode is unique to the Waterpik. Designed to be used at lower settings, it stimulates blood flow which helps strengthen and heal the gum line. If you suffer from gingivitis, then this great feature makes a Waterpik a must have for you.
1 Minute Timer
Waterpik recommends that you floss for 1 minute and they've included a timer with 30 second pacer to help with this. After 30 seconds the water will stop briefly to let you know that you're at the halfway mark. If you prefer to floss in your own time, this feature can be deactivated.
Covered Tip Storage
here is a designated place to neatly store your favourite 2 tips behind the reservoir. Brush tips tend to press against the inside of the reservoir and could become bent, but otherwise this is a really handy feature.
Reservoir
The reservoir on the Waterpik stores 22 ounces of water, which allows for 90 seconds of flossing at full pressure. As recommend flossing time is just 60 seconds, enough time for you to do a thorough clean – and more!
Sound a little much bother to have to refill each time? It takes less than 10 seconds to fill from the tap and fresh water makes for the best cleaning experience. The detachable reservoir is also dishwasher safe so you can rest assured that your Aquarius is always sanitary and hygienic.
Rubber Feet
Waterpik pay close attention to detail with all their products and little features like the rubber feet on the Aquarius add up to a quality device. Seemingly a minimal feature, the rubber feet reduce movement on a wet countertop. It always stays put and you never have to worry that a reservoir full of water will accidentally slide all over you!
Accessories – it's all in the tip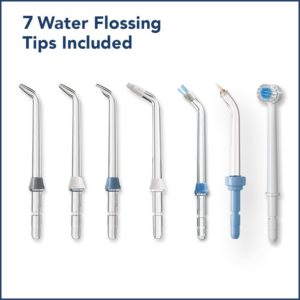 The Aquarius comes with 7 tips which are easily interchangeable.
Classic Jet Tip – 3 included
These are the standard water flossing tips recommended for general use. The Aquarius comes with 3 color-coded tips – if multiple family members are sharing the same flosser, this makes identifying tips so much easier.
Toothbrush Tip – 1 included
If you want to floss and brush at the same time, this is a great tip.  Water shoots out of the bristles and you then brush your teeth with water flowing out of your toothbrush. However, if you do want an all in one experience from a device, we recommend the Waterpik Complete Care package which covers all your flossing and brushing needs.
Plaque Seeker Tip – 1 included
The Plaque Seeker Tip is perfect for cleaning those hard to reach areas.  The three tufts of bristles optimise cleaning around crowns, bridges and veneers which are particularly susceptible to plaque accumulation.
Orthodontic Tip – 1 included
If you have braces, then this is a must have. Designed to be able to get underneath and around braces and brackets, it removes plaque and sweeps away any trapped food particles.
Pik Pocket Tip – 1 included
The Pik Pocket Tip is best for periodontal pockets. The tapered tip head is able to deliver rinses and medicaments deep below the gum line. Whilst not the perfect tip for everyone, it is especially helpful for those who suffer from gingivitis and gum disease.
---
Usage & Impressions
---
The Waterpik Aquarius is easy and enjoyable to use.
One of the biggest pros is that you have ultimate control over your flossing experience. From the pressure settings, to the pause button and swivel head, the Aquarius allows for minimal mess and maximum result.
Portability
It is important to note that the Aquarius isn't designed for portability. But this is not a problem if you prefer a device that is a mainstay in the bathroom. If you prefer something that you can easily take on the road, there are some great cordless options out there. Waterpik have also recently release a new portable countertop flosser, the Sidekick, which shares many of the core features of the Aquarius. You can find out how they compare in our Sidekick vs Aquarius review.
Different Modes
The different modes and tips really help to make water flossing a personalised experience. The Aquarius is designed to be the best water flosser for a huge range of people, and so you can be sure that it will continue to be just as effective for you if your dental needs change.
Noise!
The Waterpik is not a quiet device. Once you turn it on and the water starts pumping you'll be able to hear it throughout the whole house. For quieter devices, look to the Waterpik Ultra or Sidekick which are quieter than other models.
Overall Usage
Filling up the reservoir, keeping it clean is easy, and using the actual device is easy.
In terms of overall usage its hard to find any faults other than it gives a lawnmower a run for its money in terms of volume.
---
Final Thoughts
---
If you're looking for a water flosser, the Waterpik Aquarius is pretty much the best you can buy. With a huge range of tips and features that allow you to tailor your flossing to your needs, it really does take your oral hygiene to the next level. Whatever your requirements, the Aquarius has you covered.
Well designed, reasonably priced and with every feature you would ever want, this is a purchase you will never regret.
Extra: Official Instructions