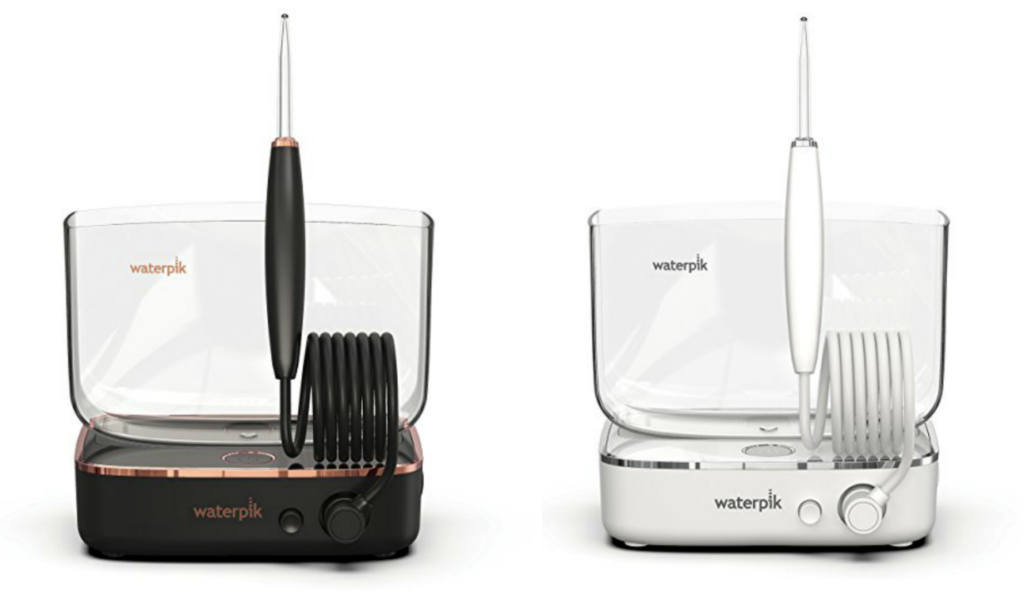 The Sidekick WF-04 is the newest product from Waterpik. Arguably the most stylish water flosser on the market, it's an ultra-compact, collapsible device that packs the punch of a full-sized flosser.
Waterpik have been the forerunners in oral irrigation since they designed the first ever water flosser in 1962. 
The Sidekick has been
clinically proven to remove 99.9% of plaque
from treated areas and
50% more effective at improving gum health than string floss
.
It looks and sounds great, but exactly how good is the latest Waterpik? We take a look in this Sidekick review.
The Good
+ 
Removes 99.9% of plaque from treated areas and 50% more effective for gums than string floss
+ 
Portable without compromising on power and pressure settings
+ Beautiful design
+ Quiet
+ 3 year warranty
The Bad
– 
60 seconds flossing time at full power
– 
Only one jet tip which is permanently attached to the hose
Let's start with the obvious…
The Waterpik Sidekick is stunning. Available in three color combinations: white and chrome, black and copper and white and rose gold; it's sleek, modern and looks like no other flosser on the market. Bridging the gap between countertop and cordless flossers, the Sidekick is perfect for anyone who wants a compact device without having to compromise on power. Here are the different color options:
How the Sidekick works
The Waterpik Sidekick cleans your teeth using a combination of pressurized water and pulsations. This combination is delivered to those hard to reach areas, dislodging harmful food debris and plaque from in between your teeth. Studies show that pulsating water is more effective at cleaning than a continuous stream of water, so the Sidekick delivers an incredible 1400 pulses per minute to achieve the most thorough clean.
Key features of the Waterpik Sidekick
Compact Size and Portability
The compactness of the Waterpik Sidekick is its winning feature. It can be hard to find the counter space for an additional product. Not a problem now, as this unit is tiny. Its footprint is just 4×6 inches – around the size of a standard photograph – and the whole unit, including power supply, tucks away inside the reservoir to make a neat package only 1 inch high. Assembled, it's the same height as a tall Starbucks coffee, measuring just 5 inches.
For those hoping to travel with the Sidekick, it comes with a premium water-resistant travel case to make flossing on the go simpler than ever. It is worth noting that whilst the Sidekick is designed for portability, it still is a counter top flosser and therefore a power outlet is required. However, global voltage compatibility ensures easy use across the globe.
Pressure settings
The Sidekick is powered by the same patented Waterpik technology used in countertop water flossers. 5 pressure settings are available – 2 more than other portable models but half as many as the rest of Waterpik's countertop range. Frequent water flosser users will typically only use a maximum of 3 pressure settings on a regular basis so this is no big deal, and still offers more options than any other portable flosser out there.
Capacity
The Sidekick allows for 60 seconds flossing time at full pressure, compared to 90 seconds with a full-sized Waterpik and 45 seconds with a cordless model. This means that if you floss at full pressure, you may need to stop to refill the reservoir before your flossing routine is completed. The reservoir is super easy to fill though, so this really isn't the end of the world. With the pressure set at 3, the water flow lasts for 2 whole minutes which is plenty of time to give your teeth a thorough clean!
Design
What you immediately notice about the Sidekick is that it looks great. In fact, it would probably look good anywhere in the home! Most water flossers tend to look slightly clinical, but here a sleek, modern product that makes you want to floss. How many times have you been able to say that?! This is a serious benefit as consistent flossing is the key to great dental health.
Quiet
Water flossers are often loud, and pumping water at pressure will always generate some noise. However, the Sidekick is one of Waterpik's quietest flossers yet, with users comparing noise levels to the sound of an electric toothbrush. This is perfect if you need to be flossing late at night when others might be sleeping or if you simply can't stand the noise.
3 year warranty
Most water flossers come with a 2 year warranty, but Waterpik show their confidence in their products by providing them with a 3 year warranty. Whilst not the cheapest water flosser out there, you can rest assured that you have invested in a quality product that will withstand the test of time. And even if you're unlucky and it kicks the buckets after 3 years, the cost of your dental care will work out at just $0.12 per day –  more than string floss, but still a minimal price to pay for your oral health!
Integrated flossing tips
The only complaint that users have regarding the Waterpik Sidekick is that the flossing tip is integrated into the handle and hose, and currently replacement tips are not available for purchase (although they will be replaced free of charge under warranty if they break).
This means two things. Firstly, there are no specialized tips, such as the periodontal, plaque seeker and orthodontic tips, which are available with standard countertop Waterpiks. And secondly, unless you're willing to share flossing tips, this product is currently only suitable for personal use.
So what's the bottom line?
The Waterpik Sidekick is testament to Waterpik's ongoing innovation and value of customer input. For years, there has been a difficult choice to make between cordless and countertop water flossers, but it is bridged perfectly with the Sidekick. Whilst not quite as versatile as a fully-sized countertop, it is the most powerful portable water flosser available and it compromises very little in exchange for size.
Sale
Waterpik Sidekick Water Flosser, White/chrome
Ultra-compact, convenient Waterpik Water Flosser - ideal for travel and limited counter space, includes premium water-resistant storage travel case
Floss anytime, anywhere - as your personal and portable water flosser, Sidekick is easy to use and packs up quickly for storage or travel, plus it is global voltage compatible (100 240VAC, 60/50Hz) for international use
Full-sized performance - powered by the same patented Waterpik Water Flosser technology used in full-sized, countertop units
Clinically proven - removes up to 99.9% of plaque from treated areas and helps prevent tooth decay and future dental work
Includes new flossing stylus with integrated classic tip and swivel handle for effortless access to all areas of the mouth, 13-ounce reservoir for 60 seconds of flossing time, assembled measurements 3.9 d x 4.8 h x 5.7 w inches
How to use the Waterpik Sidekick
Prep the unit
Connect power cord to unit base and power supply. Plug into electrical outlet.

Attach hose at the base of the unit.

Fill reservoir with warm water and place firmly on base of unit.

Slide pressure to high and point tip at the base of the sink. Turn on the device and let run until water flows for a few seconds.
To water floss
Slide to lowest pressure setting.

Place tip in mouth and close lips enough to prevent splashing. Turn power on allowing water to flow from your mouth into the sink. Increase pressure to you liking,

Aim water at the gumline at a 90 degree angle. Follow the gumline and pause briefly between teeth.