It's a well-known fact.  Flossing is an important part of oral health.
We know this because the dentist tells us so during every visit. The American Dental Association recommends flossing once a day. And studies show a big reduction in gingivitis in those who flossed and brushed rather than just brushing.
And flossing is the only way to fully clean plaque out of those hard-to-reach tight spots between the teeth and the gums. In fact, flossing is said to do about 40% of the work needed to remove that sticky bacterial film from your teeth. And this is important because plaque generates acid that can cause cavities and gum disease.
So, you heard it here:
Brushing alone really isn't enough!
So, what are our options?
Arguably the 2 most popular methods right now are:
Traditional dental floss
Water flossers (Waterpik)
What is Dental Floss?
Dental floss is string made of thin filaments.
It has been used since 1818 to remove plaque and bits of food from hard-to-reach places.  And in that time, it has evolved through different materials and shapes over time.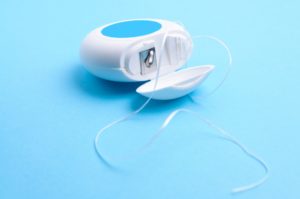 There are many types of dental floss including:
Waxed
Unwaxed
Dental Tape
Woven
Expanding
These different types of floss suit different people. For example, those whose teeth may be close together or far apart.
Dental floss is extremely effective but it can take some practice to master the technique.
What is a Waterpik (water flosser)?
A water flosser is a device that allows you to shoot a stream of water at and between your teeth in order to dislodge anything a toothbrush can't reach. Including plaque.
They have become extremely popular in recent years. Both due to their ease of use and their widespread acclaim as an effective alternative to flossing.
Water flossers make use of a small tank of water that either sits on the countertop and is connected to the device by a cord. Or they may have a small tank of water attached to the device itself allowing for cordless use.
All you have to do is lean over the sink and spray the water in between your teeth.
So, which is better?
To decide, let's look at a number of factors to help us figure out which of the two methods is right for us, and our lifestyle.
So, we'll look at variables such as price, ease of use, effectiveness, irritation/pain, and time/frequency.
After that, we'll take a look at some expert opinions to help us decide which of these methods is better.
Price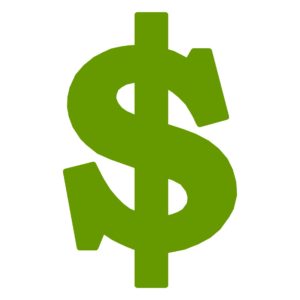 This one's not as simple as it may seem.
Water flosser: ~$70+
Floss: ~$2
In the short term it's a no-brainer: the floss is way cheaper!
The water flosser, on the other hand, should be considered like an investment. You pay more up front but over time it can actually be more economical than the floss.
I think the crux of the argument here comes down to quality.
If you're buying the $1 floss and the cheapest water flosser you can find, then the dental floss will probably be a better purchase when the water flosser decides to kick the bucket.
If you go for a trusted brand of water flosser that's known for quality, then it will probably outlast the dental floss.
For the short term, the dental floss is superior in terms of price. In the long term, quality is king and the water flosser will likely be with you for a while, making it a better investment.
Ease of use
This is one of the reasons people avoid traditional dental floss: there's a learning curve.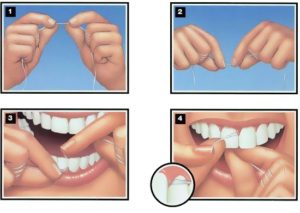 You need a certain amount of dexterity to floss effectively without hurting your gums and/or fingers.
Colgate has a short guide here that helps, but ultimately, you'll just have to learn through trial and error.
The upside is that once you're proficient your gums and teeth will thank you.
Another obstacle with traditional floss is that people have different teeth sizes and more importantly they have different distances between their teeth. What this means is that some floss will be a nightmare to use as its too big, too small etc.
Thankfully over the years a large number of floss types have emerged allowing for any kind of tooth configuration.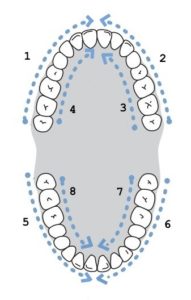 Water flossing, on the other hand, is relatively simple.
It's used pretty much like an electric toothbrush. All you have to do is run it along your gum line and adjust the pressure according to what's comfortable for you.
It is advised to move from the back teeth to the front teeth for the most effective cleaning.
Be sure to start on the lowest pressure setting first too in order to not hurt your gums.
Effectiveness
It's generally accepted in the dental community that traditional dental floss is the most effective tool for cleaning between teeth and gums, but what about the water flosser?
Both traditional dental floss and water flossers are considered to be extremely effective at cleaning plaque and food from between teeth and gums, and preventing gum disease such as gingivitis.
There are a few points of contention as to which is best at what, but here's what we think:
The water flosser is better at removing food and plaque from places dental floss can't reach. For example: under and around braces, in certain spots under the gums that are too sensitive to rub with dental floss, and other hard to access areas.
Dental floss is overall more efficient at 'spot cleaning' plaque, as dental floss 'wipes' the plaque away whereas water flossers merely 'rinse' the area.
Despite the love for dental floss by experts in the community, there have been a number of studies comparing the two methods and the main conclusions have been:
Water flossers are 29% more effective at removing dental plaque than regular floss [Study]
They are 51% more effective at reducing gingivitis [Study]
And twice as effective at reducing gingival bleeding [Study]
What does this mean in practice?
It means that if you're great at flossing and confident that you're hitting every spot, then there's no reason why you shouldn't use standard floss. It still remains an extremely effective method for reducing plaque and gum disease.
But if you want a more thorough overall clean, use a water flosser. They're easier, quicker and much more fun to use and generally do a better job.
If you really want to go to town, use both!
Irritation / Pain
Water flossers can be gentle or fairly aggressive, depending on what setting you have the pressure at.
It is highly advised to start with the lowest pressure and see how that feels. If you think it would be more effective to raise the pressure and you won't hurt your gums then by all means do so.
Traditional dental floss can be abrasive.
A lot of people report hurting their gums and even that their gums bleed sometimes after flossing. It can also cut off the blood supply to the tips of your fingers!
This is often a problem of using the wrong type of floss, or having sensitive gums. If this is the case then we recommend either trying a different kind of floss or a water flosser as they are way gentler.
Time / Frequency
When using dental floss, it is recommended to:
Take 12-18 inches of floss and wrap it around your fingers so that you have a couple of inches taut ready to work with
Slip the floss in between your teeth and then wrap it around each tooth in a C shape.
Run the floss along your teeth and under your gums 8-10 times
Repeat
Now this can be done quickly. But it can also take a while, depending entirely on your skill with floss.
It should also be noted that you can't use dental floss more than once. The material could fray and either lose its effectiveness or redeposit plaque and bacteria into your mouth.
With the water flosser things are much faster.
You will have to run the water flosser across your gum line and between your teeth both back and front. But the fact that there is no set up and you don't have to rub floss 8-10 times really makes things more time efficient.
Both dental floss and water flossers should be used once per day, but can be used more if you want. Be careful that your gums do not get irritated. If they do, reduce the amount you are using them or check to see if the floss/water flosser pressure is the issue.
Expert Analysis
Dr. Mary J. Hayes
Dr Hayes takes a fairly neutral stance on this question and echoes some of the pros and cons listed here.
Flossing can be irritating for people who have sensitive gums and may actually cause bleeding in some people.

Dr Mary J Hayes
Flossing scrapes off the sticky film of bacteria, while a Waterpik just rinses it.

Dr Mary J Hayes
Ultimately, she doesn't favor either of them, just says that each is better than nothing for your dental hygiene.
Dr. Mark W Langberg
Also taking a conservative stance, Dr Langberg believes water flossers aren't substitutes for flossing, but that either one is beneficial and both together are the best option!
Dr. Carol Jahn
Dr Jahn prefers the WaterPik and often cites recent studies that have proven this tool to be superior for oral health.
Three studies have directly compared the Water Flosser to string floss. The first, a four-week study at the University of Nebraska in 2005 found that the Water Flosser with the Classic Jet Tip was up to 93% more effective at reducing bleeding and up to 52% more effective at reducing gingivitis than string floss. Plaque removal was also better. In 2011, a four-week study at the University of Amsterdam that compared water flossing with the Classic Jet Tip and the Plaque Seeker® Tip to string floss, found the Water Flosser to be twice as effective at reducing bleeding as string floss. There were no differences between the groups in regard to plaque removal. A third four-week study, conducted in 2008 in Canada on adolescents with fixed orthodontic appliances found the Water Flosser with the Orthodontic Tip to be significantly more effective than manual brushing and flossing at removing plaque and reducing bleeding.

Dr Carol Jahn
Summary of Expert Analysis
Experts seem to be relatively undecided on the issue of Waterpik vs flossing.
After reading through numerous opinions it becomes clear that some experts stick to what they have been taught: that dental floss is the best solution.
Some experts look at the studies done and conclude that the water flosser is actually the superior tool.
But most experts simply care about the dental health of their patients. What I mean by this is that the difference between these 2 methods is so minimal that as long as their patients are doing something and they are able to consistently do it, the dentists are happy.
Conclusion
To put it simply: use whichever method you prefer.
The important thing is that you use one of them and you stick to doing it at least once per day.
There are good arguments on both sides, there are studies, and there are expert testimonies. But at the end of the day, you have to choose the method that is right for you.
You should focus on the aspects that are specific to you, like gum sensitivity, price, or dexterity.
Try both water flossing and dental flossing and see which you like to use better, because there's one thing that all dentists agree upon and that is that anything is better than just brushing!
---
References
Last update on 2023-12-06 / Affiliate links / Images from Amazon Product Advertising API