If you don't floss already, i'm betting your dentist mentions it to you every time you see them. If you do, you probably either use traditional dental floss or a water flosser.
Flossing in general is very important, and there's a reason your dentist wants you to do it. Did you know that 27% of people lie to their dentists about how often they floss their teeth?
Flossing removes plaque from the teeth and in between the gums, where a toothbrush (electric or manual) can't. This plaque builds up over time and can result in some nasty unpleasantness.
Water flossers are the next generation in flossing. Sure, traditional floss is still very effective, but there are a number of reasons why water flossers are considered the new standard.
Think of a water flosser to floss as an electric toothbrush is to a manual one.
We've put together a comprehensive guide to water flossers, and why you should be using one.

What is a water flosser?
A water flosser is a device that shoots a stream of pulsating water in between your teeth and gums in order to remove plaque and food debris. It has been the subject of many studies, most of them concluding that the water flosser is an excellent tool for oral health. Many people have decided to opt for water flossers as an alternative to traditional dental floss.
Originally called an 'oral irrigator', the first water flosser was developed in 1962 by Dr. Gerald Moyer and John Mattingly in Fort Collins, CO.
It was designed to be a device that could be used at home to improve oral health. The first water flosser they built (named The Octopus) was given to a patient of Dr. Moyer's who was suffering from periodontal issues. He was so happy with the results that he eventually became an investor and even became the company's first president!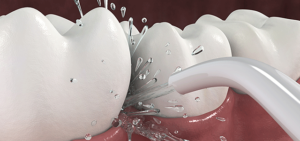 Advantages of Water Flossing
There are a number of advantages when you use a water flosser:
It's easy to use. When compared to other plaque removal methods like dental floss, the water flosser is a breeze to use. There's no learning curve or fiddly string to deal with, all you have to do is aim and press a button.
It's cheap if you buy the right device. A water flosser can last a long time. If you buy a high quality device it will pay for itself in value many times over.
It's incredibly effective. Studies show that a water flosser can remove 99.9% of plaque biofilm, and is 29% more effective at removing plaque than regular string floss. It is also the best tool available for reducing gingivitis and gingival bleeding.
It's painless. A water flosser usually has different pressure settings for people with different levels of gum sensitivity. Some people experience pain when using traditional dental floss, this can be minimised or stopped by using a water flosser.
It's fast and convenient. Used in a similar fashion to an electric toothbrush, the water flosser simply needs to be run across the gums and between the teeth both front and back.
How do I know which water flosser is for me?
Water flossers come in many shapes, sizes, and brands. There are a number of factors you should take into account when shopping for a water flosser:
Corded or cordless: There are benefits to both options. A corded water flosser is probably preferable for home use because it can store more water and is likely to be more powerful. It will also plug directly into the wall, which means it doesn't have to be charged. A cordless water flosser has its own reservoir built in, which means its perfect for use anywhere in the house or even while travelling. The downside of this is that it requires charging.
Brand: The most well-known brand on the market is the original Waterpik. This is the company that created the device and has been in business the longest. This means that you know you'll be getting a quality device from the most knowledgeable company in the business.

There are many other brands that provide similar devices for cheaper, which can sometimes be a better option. You may be sacrificing quality and life expectancy of the device though.
So what are my best options?
There are many different types of water flosser on the market, so we compiled the 5 absolute best choices of 2016 for you.
Top 5 Water Flosser Reviews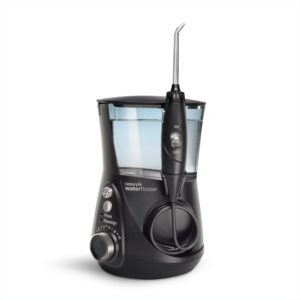 The Waterpik Aquarius is the best selling water flosser online, and for good reason.
Waterpik are the inventors of the water flosser and this is their flagship product. It's the most advanced flosser they've created so far and is packed with handy features.
The Aquarius is a corded water flosser making it great for home use, but not so great for travelling despite its compact size. It has 10 pressure settings so if you find you have sensitive gums you can turn it down, or if its not getting the job done properly you can turn it up.
There's a timer built in, as with most new electric toothbrushes, so that you won't be over or under-doing it, which I always find helpful. It also includes 7 different tips for different purposes: general plaque removal, implant/braces/crown specific cleaning, periodontal pocket cleaning for the deeper cleans etc.
Overall this is a great product and the most highly recommended on this site as well as the general dental community. Pictured to the left is the designer edition (available in black, pink, and turquoise). The classic edition is available here.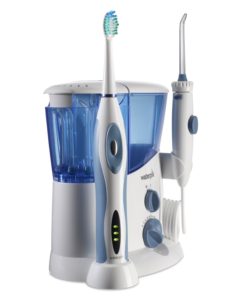 The Waterpik Complete care is actually a pretty cool combo package.
Its basically pristine dental health all in one purchase. You get what is essentially the Waterpik Ultra (the older model of the Aquarius, but some still regard it as better), and a sonic toothbrush to go with it.
Sonic toothbrushes are great because they reach an estimated 30,000 brushes per minute, as opposed to the 3-4,000 you will get with an electric toothbrush. Additionally, because of the high speed of the brush a wave is created that extends beyond the actual brush contact for about 1/8 of an inch. This gives you a bigger brushing surface and therefore a cleaner mouth.
The price of the Waterpik Complete Care is remarkably low considering what's in the box.
Some people say that the water reservoir runs out a bit too quickly, but this would be the case with most Waterpik products as they all have similar sized reservoirs. This seems to be a matter of personal preference.
This product comes with a nice travel case, though I personally don't find these kinds of devices great for travelling.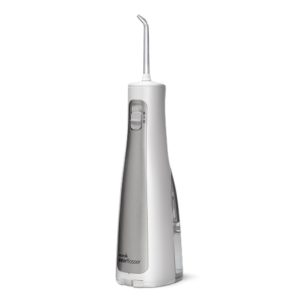 Some people prefer to have a water flosser that can be used while walking around the house, or taken with them while travelling.
We recommend the Waterpik Cordless Freedom.
The Cordless Freedom has lots of things going for it: it's waterproof and can be used in the shower, it's battery operated so doesn't need charging, it comes with a handy travel bag and travel plug, and you get the same if not similar results to any other Waterpik device.
Unfortunately, the reservoir is smaller (but it can't be the size of a corded device's!) and lasts about 30 seconds before needing to be refilled.
It also only has 2 pressure modes and so isn't as customizable as the other devices with regards to power.
All in all, this is a really decent option for someone who travels or insists on water flossing in the shower.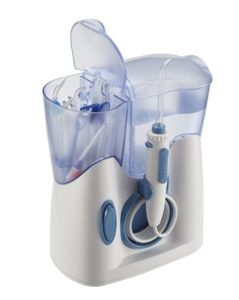 The H20 Floss is an example of a smaller brand doing everything right.
The main advantages are that it's cheaper than most Waterpik products, and it comes with 12 tips.
The reason this is great, is that the water flosser can be used by more than one person easily. The device even has a handy storage compartment built in just for storing spare tips.
As far as functionality goes, its still a very solid product. It does everything it's supposed to do, and well.
The H20 Floss boasts being an extremely quiet machine that you can even "use at midnight without waking up your family".
Most people that bought this instead of a big brand device have been thrilled with the results, so if you're looking for a cheaper option this comes highly recommended.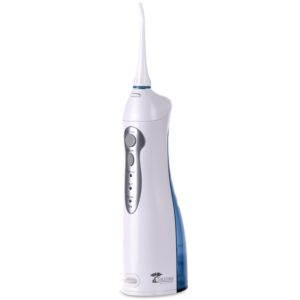 One thing that's great about this company (not including their clever name) is that they listen to their customers.
The previous design of this product was wrought with design flaws, and customers complained. Most companies wouldn't do a thing about it, but not these guys.
They listened to the complaints and they redesigned the product to make sure their customers were happy.
This resulted in things like: better batteries for longer life, a wider opening due to annoyance in filling up the device, easier tip release, and a motor redesign to make the device quieter.
The impact on their reviews has been huge.
The Toilet Tree Professional is a cordless water flosser thats great for both travel and home use. It has a larger reservoir than most portable water flossers and can be charged via USB!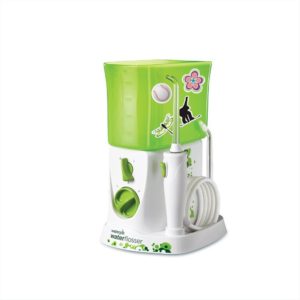 Let's face it: its not going to be the easiest task to get your kids to pick up the habit of flossing daily with traditional dental floss.
With water flossing, you might have a better shot.
Waterpik capitalized on that chance by making a water flosser just for kids. It's built for kids ages 6+ and has a "kid-proof electrical design", and some decal stickers they may want to use to make it their own.
If your child has braces, this is one of the best ways to clean out the bits of food inbetween the braces that a toothbrush may miss.
For those who want their children to practice oral health from a young age, this could be a great way to do that.